Skip to main content
Building
On our
Success.
2022 Annual Report
Partnering
with a Purpose.
To the Liberty Bank Community,
Liberty Bank faced unprecedented challenges in recent years and 2022 was no different. We continued to confront headwinds globally and in our local communities.
However, we turned an unpredictable 12 months into another historic year – remaining true to our mission, instilling a sense of purpose in everything we did and building on our momentum from 2022.
A Well-Positioned Mutual Bank
At nearly 200 years old, we are the oldest and largest independent mutual bank in the country – owned by our customers, not driven by outside shareholders or Wall Street motives.
We ended 2022 with nearly $7 billion in assets. We focused on safety and soundness and regularly evaluated our internal operations and policies. We operated in a financially responsible way, resulting in excellent earnings, capital and liquidity.
Liberty underwent a cadence of regulatory exams and external audits. We continued to make sure our customers' banking experience was safe and protected. Liberty also continued to invest in our community partners, surpassed our volunteerism goal and delivered on our brand promise to 'Be Community Kind'.
While the road for some banks is uncertain, you can see Liberty is positioned as well as any other bank in the country.
2022 Accomplishments
In this report, we highlighted several customer relationships that bring to life our accomplishments and celebrate the outstanding people behind our results in 2022. We have a lot to be proud of in 2022 and our 250,000 customer relationships are each equally important as we build on our successes together.
Our commercial and retail lenders teams generated significant loan growth and bolstered our I-91 corridor lending strategy. We achieved terrific financial results. We replaced our aging ATM fleet with more modern machines, eliminated certain fees for customers and provided new products for unbanked and underbanked communities.
We refreshed our three-year strategic plan and our branch teammates and call center agents delivered extraordinary customer experiences in-person, over-the-phone and via virtual chat.
I'm also proud to announce our teammates voted us a Top Workplace for the 11th consecutive year and were once again named a 'Best-in-State Bank' by Forbes.
A Position of Financial Strength and Opportunity
I want to thank you for making 2022 another successful year. We remained strong, resilient and nimble and showed a remarkable ability to build on successes from the previous year - all while championing our Vision to build the community bank of the future.
Today, we remain in a position of financial strength and opportunity.
Sincerely,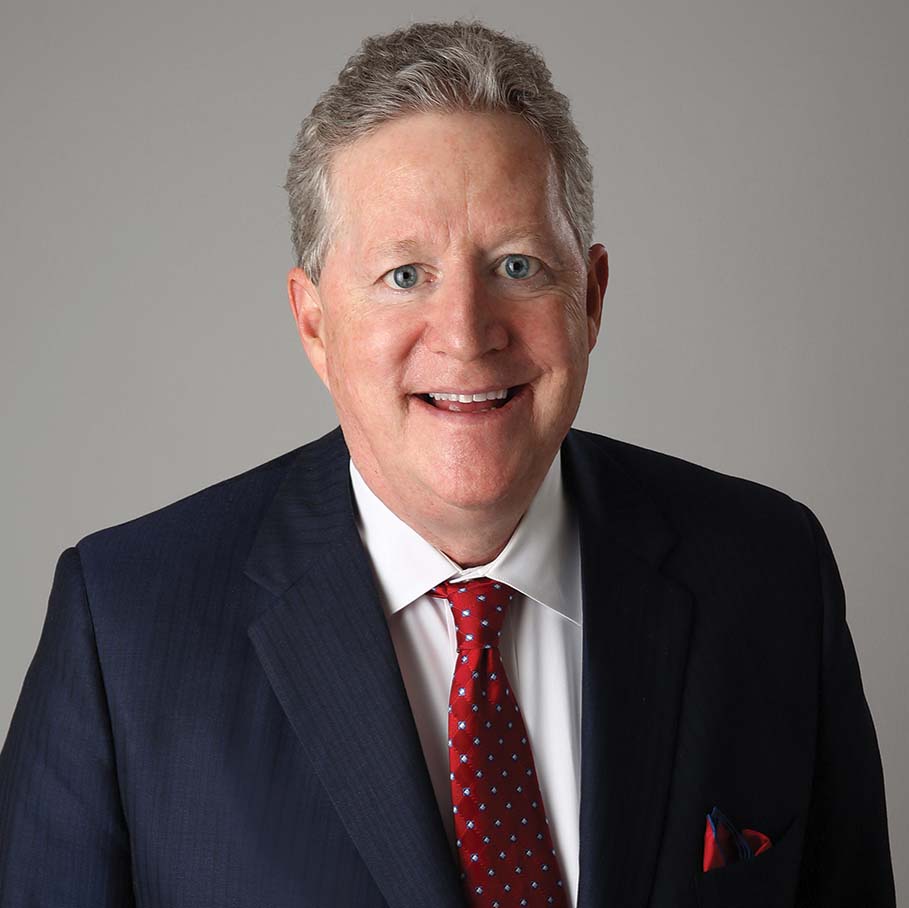 David W. Glidden, President & CEO
2022 Finances
New Record Pre-Provision Net Revenue Driven by Strong Lending Growth, Excellent Asset & Liability Management and our Outstanding Teammates!
Liberty Bank's core earnings performance was outstanding in 2022 achieving an all-time high Pre-Provision Net Revenue of $93.6 million and Net Operating Income of $93.1 million!
Consolidated Balance Sheets

At December 31,
(dollars in thousands)
2022
2021
Assets
Cash and investments
$1,481,915
$2,997,973
Loans:
Consumer residential
1,091,845
879,876
Consumer
385,807
280,336
Commercial mortgages
2,690,870
2,074,605
Commercial
916,933
890,909
Gross loans
5,085,455
4,125,726
Loan loss reserves
(72,727)
(71,915)
Loans, net
5,012,728
4,053,811
Other assets
451,901
349,247
Total assets
6,946,544
$7,401,031
Liabilities and Capital
Deposits
5,769,228
5,927,804
Federal Home Loan Bank borrowings
69,518
364,853
Other liabilities
193,214
181,228
Total liabilities
6,031,960
6,473,885
Capital
914,584
927,146
Total liabilities and capital
6,946,544
$7,401,031
The Retail and Commercial Lending teams performed tremendously, growing our gross loan portfolio by $959.7 million, or 23.3%. We were well positioned to fund these loans since we invested our excess liquidity in short-term investments, maintaining strong liquidity in anticipation of a higher rate environment. The Federal Reserve approved seven federal funds rate hikes throughout the year, totaling 4.25%, proving that our conservative investment decisions with our excess liquidity was wise. Net Interest Income rose dramatically to $215.1 million; 29.8% better than 2021. Despite the rapidly increasing rate environment, our Interest Expense was $6.0 million lower than 2021 as we significantly reduced deposit and borrowing costs with strong asset/liability management.
We prudently reduced the Balance Sheet by lowering borrowings by $295 million and letting high cost, non-relationship net deposits of $219.4 million attrite while growing our transactional demand deposits by $60.8 million and adding 14,255 new households to the Liberty family.
Our Tier 1 Leverage Capital Ratio of 12.97% is up 90 basis points from 2021 and our Capital to Assets Ratio rose to 13.2%, underscoring that Liberty Bank is extremely well-capitalized.
Our People are our Most Valuable Assets!
The impressive financial performance in 2022 is a direct result of our outstanding teammates working together for a common purpose, rising up to face the significant challenges through the pandemic and into the turbulent, inflationary economic environment. I am so proud of how our teammates executed with excellence and demonstrated once again that they are Liberty Bank's most valuable assets. As we look to the future and progress towards our 200 year anniversary, it's their commitment to our vision and sense of purpose that will continue to drive our success!
Paul S. Young Chief Financial Officer
2022 Highlights
Total Operating Revenue was
$264.9 million,
growing by 23.8% in 2022
Loan Growth of
$959.7 million
$6.9 billion
in assets
at the end of 2022
Net Income of
$39.5
million
In 2022, our team opened nearly 23,000 new consumer and business checking accounts.
Commercial Banking originated 282 in new loans, bringing the portfolio to $3.6 billion plus.
Our Hartford Commercial Loan Production Office secured $175.6+ million loans in 2022.
Our New Haven Commercial Loan Production Office's loan total exceeded $70.5 million.
Our Massachusetts Commercial Loan Production Office produced a total of more than $70.3 million in loans.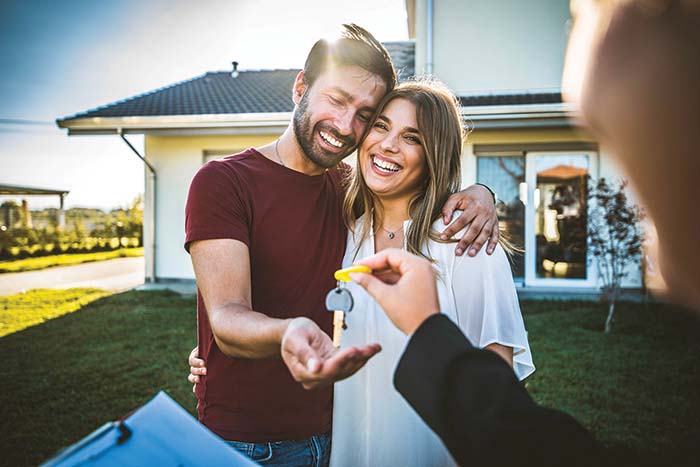 Our team welcomed 14,255 new households across the Bank in 2022, bringing our total number of households to over 178,100.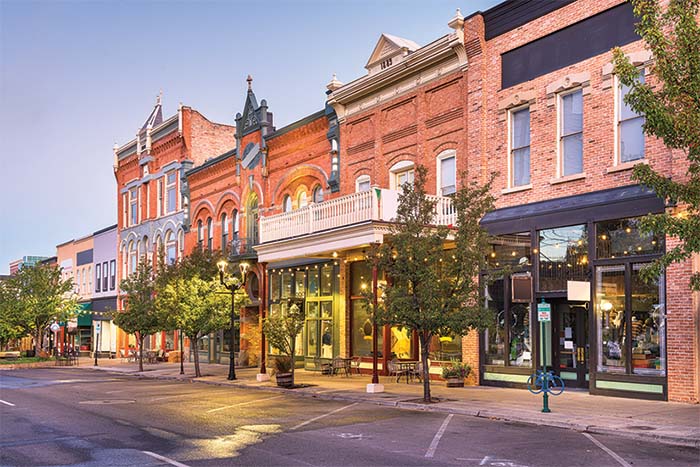 Our Commercial Real Estate Team produced about $1.1 billion in new loans and bringing the portfolio to nearly $2.3 billion.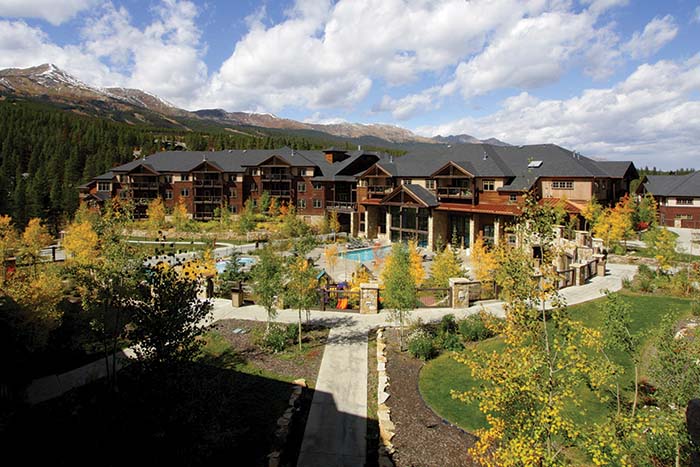 In 2022, our Retail Lending team generated $340 million in residential mortgages, in addition to offering our customers $186.3 million in Home Equity and Home Equity Line of Credit loans.
We provided nearly $312.5 million in net Resort Finance advances, which included adding seven new customers.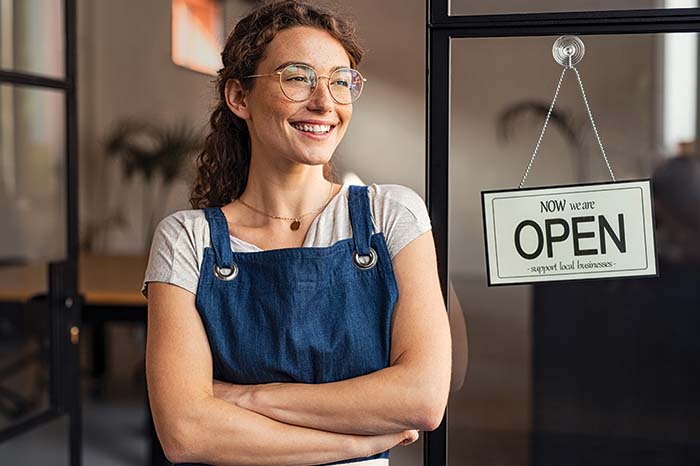 2022 was another record-breaking year for our Small Business Lending Team, closing 790 loans which totaled more than $89 million. This is a 27% increase over 2021!
Our Retail Lending Team secured number #1 marketshare in the City of Hartford among banks in 2022 (over 24% marketshare in the City of Hartford with all mortgages totaling more than $13 million).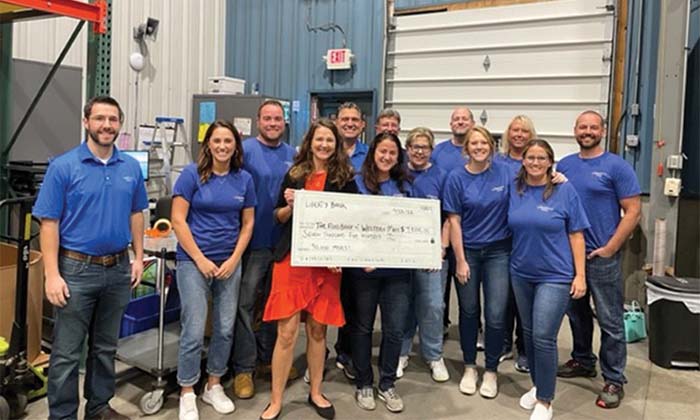 We successfully rolled out a brand new fleet of ATMs in April of 2022 - a huge win for our customers and delivering a faster, modern and more reliable ATM Network.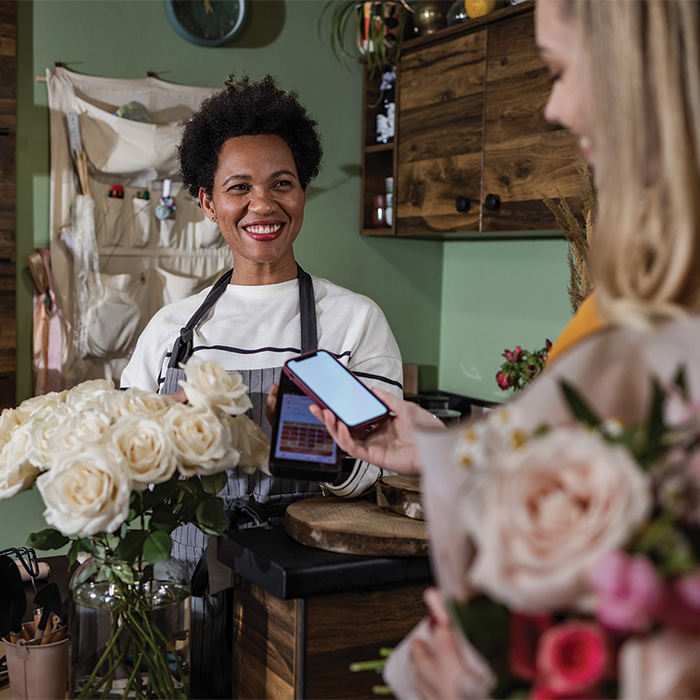 Voted a Hartford Courant Top Workplace for the 11th straight year, being named an employer of choice as voted by our teammates.
Liberty Bank Investment Services' Portfolio stands at nearly $1.4 Billion in Assets Under Management
In 2022, our Fraud Intelligence Unit prevented 501 customers from losing just over $3.6 million in funds due to various scams and helped avert losses due to fraudulent transactions totaling more than $5.7 million.
For a second consecutive year, Liberty earned a spot as a Connecticut Best-in-State-Bank by Forbes' in their 5th annual ranking.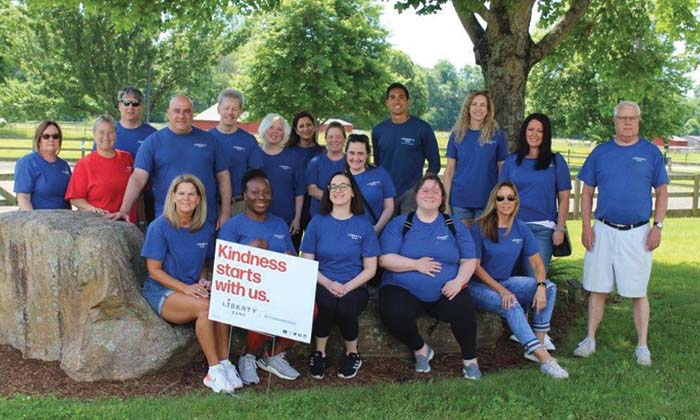 To improve the customer experience, our Digital Banking Team implemented a new account opening tool, making it simpler and more seamless to open a Liberty Bank account online.
Fulfilling our Be Community Kind Brand Promise:
Foundation Grants, Corporate
Sponsorships & Volunteerism
In 2022, Liberty Bank and the Liberty Bank Foundation demonstrated what it means to 'Be Community Kind' - this time dedicating over $2.3 million to community partnerships through grants and corporate sponsorships bolstered by thousands of hours of volunteerism.
$290K Raised for our Communities
a 10-session program held a few times during the year designed to support local start-up businesses.
$Funded 120+ Early-Stage Entrepreneurs in Our Academy for Small Business,
a 10-session program held a few times during the year designed to support local start-up businesses.
13,270 Hours of Volunteerism
logged by teammates. The level of employee volunteerism in 2022 reached levels Liberty previously achieved pre-pandemic.
265+ Good Neighbor Mortgages
totaled $54 million, creating home ownership opportunities in low and moderate income communities within our footprint.
155+ Community Outreach and Educational Programs
were conducted, including Credit Building and Budgeting, First-time Homebuyer seminars, Affordable Housing and Economic Development forums, youth Credit for Life fairs, and Small Business training.
1,000 Hours of Financial Literacy Training
was delivered to 1,200+ high school and middle school students.
$1.5 Million in Foundation Grants
approved in 2022 - a record amount in annual grants made by our Foundation - to support thousands of low-income children and families in the areas of education, literacy, workforce development, housing, college and career readiness and food.
Over $891,600 Corporate Sponsorship Dollars
were invested to help hundreds of community organizations in support of events and causes throughout the communities we serve.
"In 2022, our team once again delivered on our brand promise to 'Be Community Kind'. I couldn't be prouder of our partnership with hundreds of local organizations and my teammates' everlasting commitment to our mission to improve the lives of our customers, teammates and communities for generations to come."
David W. Glidden President & CEO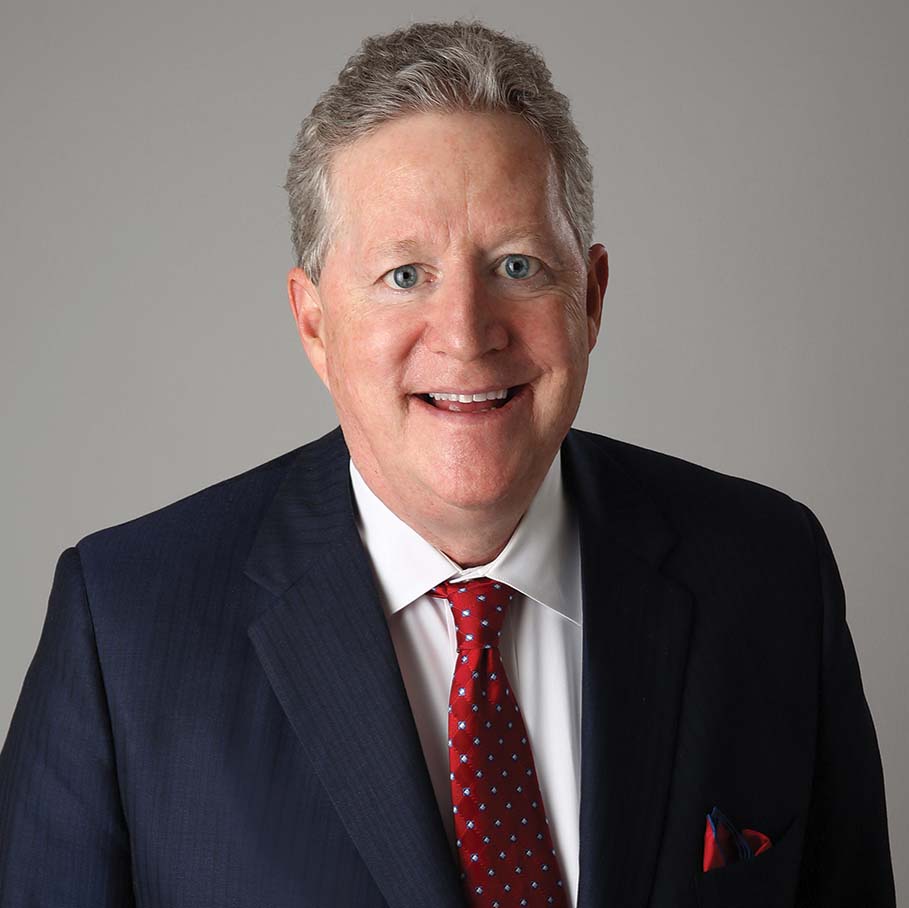 Liberty's Inaugural 'Impact Report'
Corporate social responsibility has been a fundamental tenet of Liberty since its founding and continues on today. Last year we issued our inaugural Impact Report, a comprehensive narrative that highlights the critical role we have in promoting a socially responsible and sustainable future. Liberty Bank 2021 Impact Report (liberty-bank.com) Visit www.liberty-bank.com/community and click to view the 2021 Impact Report.
View the Impact report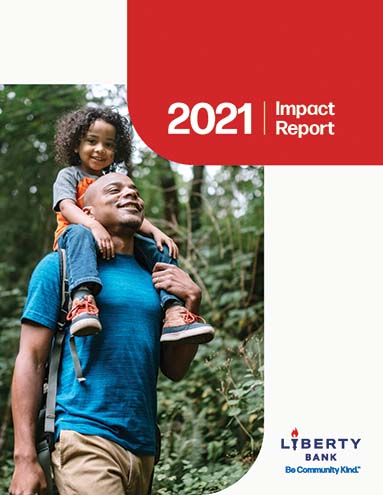 Customer
Stories
Building On Our Success
At Liberty, we're building on our success every day because of the strong partnerships we form throughout the communities we serve. We are focused on maintaining an unwavering commitment to our personal, business and commercial banking customers by helping them achieve financial success. When they succeed, we succeed.
Our dedicated bankers form holistic relationships to effectively meet personal and business banking needs. This also means we provide the kind of extraordinary customer experiences only community banks like ours knows how to do while having the size and scale to be able to implement tailored solutions that meet complex banking needs.
We are devoted to going above and beyond for our customers every time and every way they choose to bank with us: in our branches, digitally online or mobile, and over the phone. Our team stands ready in protecting our customers' financial privacy and providing safe and secure banking. Beyond our reputation for first-class banking and extraordinary customer service, Liberty has been named a 'Top Workplace' every year since 2012, a #1 Large Employer twice and a Forbes Best-In-State Bank in 2021 and 2022. We support our communities through our charitable foundation, corporate sponsorships, mutually beneficial partnerships and employee volunteerism.
Liberty Bank Board of Directors
Mark R. Gingras, Chairman G&G Distributors, Inc.
Doug Anderson Retired, Savings Bank of Manchester
William T. Christopher Retired, Lawrence Memorial Hospital
Jean M. D'Aquila D'Aquila Law Offices
David Director Connecticut Lighting Centers, Inc.
David W. Glidden Liberty Bank
Steve J. Gorss Owner/Operator Incredible Motels, Inc, West Hartford, CT
Chandler J. Howard Retired, Liberty Bank
Wilfredo Nieves Retired, Capital Community College
Elsa Núñez Eastern Connecticut State University
Kolawole Olofinboba Fairview Capital Partners
Timothy Ryan Economic Development Director, Wallingford, CT
Liberty Bank Executive Management Team
David W. Glidden President and Chief Executive Officer
Troy Damboise Executive Vice President, Chief Operational Risk Officer
Dan Flynn Executive Vice President, Chief Credit Risk Officer
Audra Hamel Executive Vice President, Chief Marketing Officer
Dan Matos Executive Vice President, Chief Legal Counsel
Jeremy Miller Senior Executive Vice President, Chief Lending Officer
David Mitchell Executive Vice President, Digital Bank GM & Chief Digital Officer
Robert Parry Senior Executive Vice President, Chief Administrative Officer
Minnie Saleh Senior Executive Vice President, Chief Retail Banking Officer
Hope Utterbeck Executive Vice President, Chief Information Officer
Paul S. Young Senior Executive Vice President, Chief Financial Officer